Here's a serious question….am I the only one who researches paint colors as if it's a life altering decision?  Google searches.  Pinterest boards.  Paint chips.  Paint samples!  I realize I can change a paint color whenever I want, it's not permanent.  But man…is it stressful!  Anyone…anyone at all? No?  Just me.  OK….
In any case!  I finally picked a paint color for the walls of the kitchen and I'm super excited about it.  After many a pins and ideas, I decided on Covington Blue by Benjamin Moore.  A few things drew me into the color.  First, the rest of my house is a light gray, so I wanted a color that would play well with the gray and not be too jarring or off putting.  Second, it felt like a grown-up version of a mermaid tail…so that's always a win!  Third, I don't have a TON of wall space vs. cabinets, so I wanted a color that would pop against the white cabinets and give it that farmhouse kitchen feel.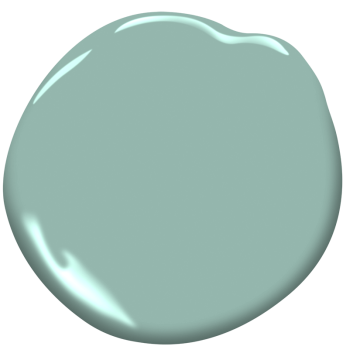 After one coat of ceiling white, I knew this was going to be a major change.  I didn't realize how gross the ceiling and walls were until a fresh coat of paint went on them.
Here's an after photo with just the ceiling paint done.  To give you an idea, the ceiling and walls were the same color.  *insert grossed out scream here*
I few naptimes later, the 2nd coat of the ceiling was done and both coats on the wall!
I'm kinda in love with the color!  It's such a welcomed changed from the off-white/yellowy color we had before.  You might notice the backsplash isn't painted.  That's so I can lay down the stick tile down without having to wait the 3 week curing period the packaging suggests.  YAY stick tile!  That's about 3 more steps away…so more on that later!